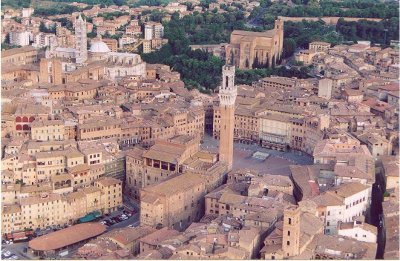 Italian Cooking Courses in Siena at Centro Internazionale Dante Alighieri
You asked for it!  Here it is!!
These Italian cooking courses last from 4 days to a full 3 weeks are intended for those who have advanced interest but not necessarily advanced skills in cooking. Lessons are normally held in Italian and English but can be held upon request in German, French, Japanese and Chinese at no additional cost.
The courses, based on traditional Italian Cuisine, will allow you to:
• discover how to prepare dishes from centuries old recipes
• explore more recent methods and forms of Italian Cuisine
• recognize and select the best oils and herbs to complement the dishes you prepare
•select and choose Italian wines to accompany your dishes
•experience the local Cuisine of Tuscany
Since 1979 Art & Cooking has been a hands-on Italian cooking school as well as the culinary department of the prestigious Dante Alighieri Siena – Italian Language, Culture and Gastronomy school. Art & Cooking is conveniently located in the same building as the language school right in the city center of Siena, Tuscany.
At Art & Cooking you will learn how to prepare authentic Italian dishes in a fun and friendly environment. Our chefs have more than 20 years of experience teaching amateurs, seasoned veterans and foodies alike. All of the hands-on courses have a thematic flair which includes special seasonal recipes as well as traditional Italian and Tuscan cooking.
The school is a fantastic meeting point for culinary lovers of all ages and nationalities creating an international, friendly and "tasty" atmosphere.
The beauty of the collaboration between Art & Cooking and Dante Alighieri Siena is that you have the unique opportunity of choosing cooking courses specific to your needs. You will be able to pick from courses that combine Italian language with cooking (Siena Magnifica & Pre-Professional Culinary Internship), courses that focus exclusively on cooking which are held in Italian and English, and in German, Russian, Japanese and Chinese upon request at no additional charge or you may opt for Italian Language courses in the morning and occasional single-day cooking classes in the afternoons. Recipes are available in Italian and/or English.
Lessons in our hands-on Italian cooking school begin with the study of ingredients, a brief description of the recipes and then one learns the true art of Italian cooking by participating hands-on in an elaborate step by step process of the four or five course meal you are about to create! The antipasto, primo, secondo, contorno and dolce are all significant parts of the art of fine and healthy dining. And for the time you have been anticipating the most…. lunch on the feast you created!
Italian Cooking Courses in Siena for 2017:
These hands-on Italian cooking courses are aimed exclusively at cooking enthusiasts that are interested in discovering the secrets of Italian cuisine. Participants will encounter a mix of seasonal and traditional Italian recipes: fresh vegetables and meat dishes in Spring, delectable fish entrées in the Summer, exquisite truffle and mushroom dishes in the Fall and rich cakes and tarts in the Winter.
There are Italian cooking courses available for just about every palate! We've got Spring Cuisine with colorful and flavorful ingredients where you will create picturesque dishes to entice all your senses, Bread & Desserts where you will learn all the tricks to making the most delicious Italian breads and desserts, Mediterranean Cuisine – for those who want to learn hands-on with authentic ingredients about the true Mediterranean diet which was recognized by UNESCO as an Intangible Cultural Heritage, the Summer Palate for light and fresh recipes, A Journey throughout Italy to learn how to make the most traditional dishes from all the main regions of Italy, and to close up the year in joy, the Christmas Festivities where you will learn to make succulent Italian traditional Christmas meals.
Emphasis in our Italian cooking courses is made, not only on the preparation of a wide variety of dishes, but also on the study and use of essential ingredients such as wine, spices and olive oil.
Amateur Italian Cooking Courses in Siena:  Starting dates and prices 2017:
Starting date

N° sessions

Theme

 Prices USD

11 April

8 (2 weeks)

Spring Cuisine **

   USD 952.00

16 May

5 (1 week)

Italian Bread & Dessert **

   USD 581.00

11 July

8 (2 weeks)

Mediterranean Diet Cuisine **

   USD 952.00

22 August

5 (1 week)

Summer Palate **

   USD 581.00

12 September

12 (3 weeks)

A journey   through Italy – indicate for professionals **

   USD 1,384.00

28 November

5 (1 week)

Xmas   festivities **

   USD 581.00

**   Lessons are held in Italian and English
* Prices do not include language course nor accommodations.  For accommodation options and prices see Accommodation Prices below.  For Italian Language courses in conjunction with the Culinary courses see:   Italian Courses in Siena
Accommodations – Prices 2017:
Host Family: Private room, breakfast only.   1 week:  USD 346;   2 weeks: USD 562 (Host Family with breakfast only is only available for stays of us to 2 weeks!).
Host Family: Private room, 2 meals a day (breakfast and dinner).    1 week:  USD 371;   2 weeks: USD 655;  3 weeks: USD 939;   4 weeks: USD 1,224;   Extra weeks: USD 284 each.
Shared Flat: Share with Italian students and/or other students (no meals /use of kitchen).    1 week:  USD 321;   2 weeks: USD 488;  3 weeks: USD 655;   4 weeks: USD 822;   Extra weeks: USD 167 each.
Residence and Hotels: Prices available upon request.
Notes:
–  Please note accommodation charges are to be paid upon arrival in local currency (Euros) within 3 days of arrival.
–  IMPORTANT NOTE: Students requesting accommodations must ADD a USD 80 accommodation fee to the course prices listed below, this fee is payable prior to arrival and will be included in your invoice.
–  Prices detailed above have been converted to USD using an average exchange rate to be used for budgeting purposes. Actual amount to be paid will be detailed in final invoice.