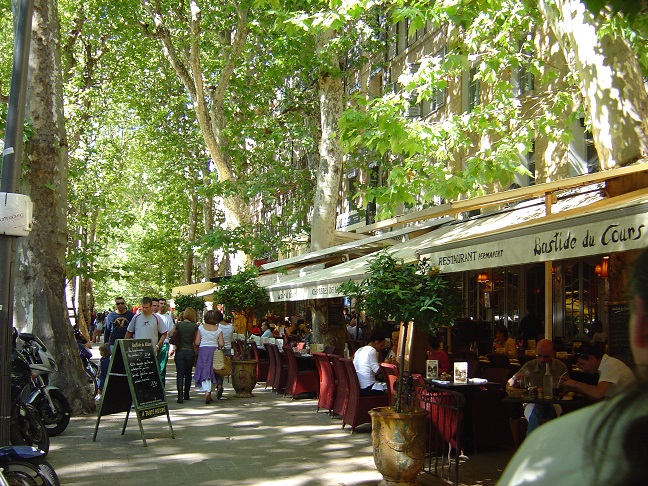 French Courses at IS Aix-en-Provence
Aix-en-Provence is a perfect Provencal city, large enough to be sophisticated but small enough to navigate on foot. A university and spa town with a population of 150,000, its location offers many possible excursions (Arles, Avignon and Nimes), and it is just half-way between the beaches of the Mediterranean (Nice, St. Tropez, Antibes, etc.). It's a picturesque city of Roman origin, with a busy center full of boutiques, restaurants, cafes and open-air markets. It has a great artistic heritage and organizes a world-famous Arts and Music Festival each year.
The IS Aix-en-Provence French Language Institute is an international language school specializing in French Courses for adults in Aix-en-Provence since 1972. It belongs to International Language Schools, a Swedish association affiliated with the University of Stockholm. International Schools has established centers in Europe to allow its students to learn a language in the country where it is spoken.
The French Language school is located in a charming  3 story house close to the edge of the historical center of town ( a 9 minute walk from the center). Two bus lines serve the school with a bus stop right in front of the school entrance. A few shops, bakeries and a restaurants can be found close by as well as the Torse gardens and the municipal swimming pool.  The building features 16 comfortable air conditioned classrooms equipped with audio and video projection screens, a multi media room with e-mail access and CD Roms in French,  two outdoor patios perfect for relaxing and socializing during the warmer months as well as a garden with a small pond.  The multilingual administrative staff is always ready to assist students with general information, reservations for excursions, car rentals, airline and railway tickets, and happy to provide suggestions for some of the many wonderful restaurants and cafes in town.
Please click on the following tabs for more information on our French Courses in Aix-en-Provence:
---
What former students have to say about this program:
"My Vacation'N Learn experience was outstanding. I was truly immersed in the French language and in the culture. My language skills expanded and improved each day because of the regular opportunities to interact with local merchants, my host family, instructors and the other students. In my class of 8 students, 6 different nationalities were represented, with our common language being French. If you've ever considered a French immersion program, this one is fun, interactive, professional and located in one of France's most charming cities." Nancy Holt – Writer.
"Great! Good school, great French Courses, great location. Very good teachers. School administration well organized and accommodating. I learned so much, and enjoyed myself while doing it! It was a great learning vacation, a wonderful opportunity to meet new people and stay in a beautiful city." Mr. & Mrs. Rowley-Cormier – Literary Agent
"It was my second time there and it was better than the first ! Everything was great, the teachers, the school, the staff!"  Laurie Rowley-Cormier – Literary Agent
"Life changing, eye opening, a "must" for everyone!" Shannon Ewing – Student